Today, most companies have a company culture video on their career website. This is a great first step towards employment branding.
However, we all know that company culture varies dramatically by department, by team and by hiring manager. We also know employees take jobs and leave jobs because of their direct hiring manager.
The challenge with micro employment branding, until now, has been the time and cost associated with expensive video production and photo shoots.
Honeit interview technology makes it easy to interview hiring managers and showcase job-specific content for hyper-targeted employer branding.
Honeit Job Previews can be automatically created from recruiting kick-off calls between recruiters and a hiring managers.
Listen Here –> https://demo.honeit.com/share/a0218e58d02295418624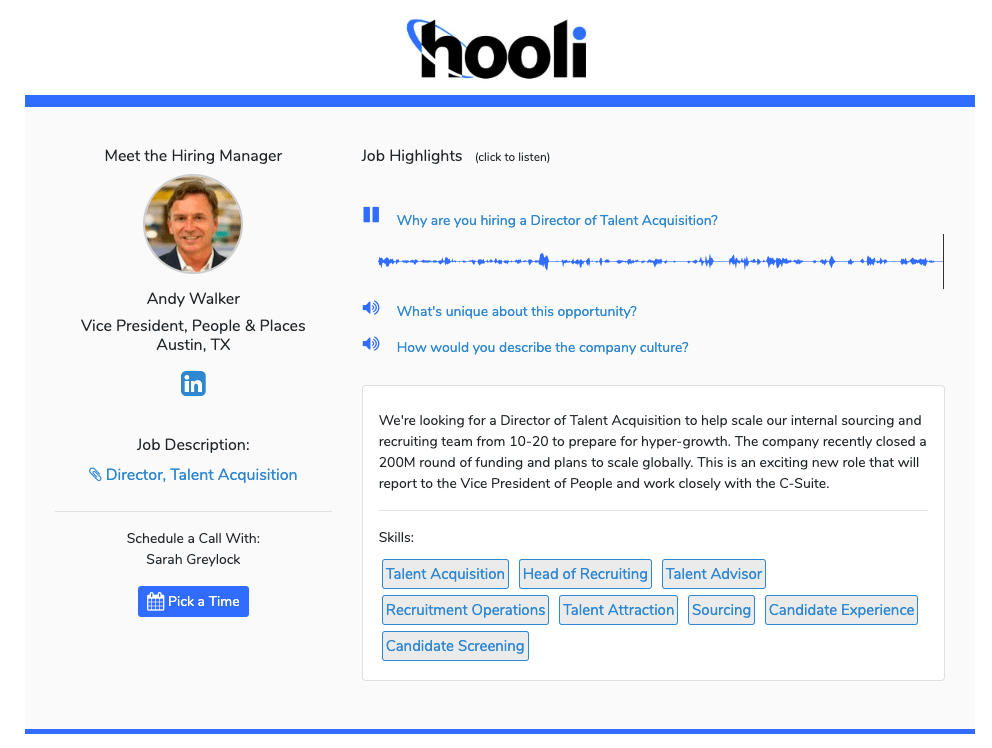 Honeit Job Previews help candidates quickly meet hiring managers and learn about job opportunities in the hiring manager's own words!
The ability for candidates to quickly get to know their future boss and meet hiring managers sooner is a competitive recruiting advantage to increase candidate response rates and help candidates 'opt-in' to hiring manager personalities and communication styles.
Today, job candidates can have 1, 2, even 3 phone conversations with external recruiters and internal recruiters, before they get to know the hiring manager, only to find out there's a personality disconnect. This is a waste of time for everyone involved.
–> Watch this Video https://www.youtube.com/watch?v=jxxGKdXwrlA
Schedule, screen and submit talent faster with Honeit interview technology!
Start interviewing today at Honeit.com/getstarted