HONEIT TECHNOLOGY
Screen and Submit Candidates in Seconds.
Schedule Easier
Automatically schedule calls, send text reminders and submit candidates.
Screen Smarter
Automatically record, transcribe and search phone screens and video interviews.
Hire Faster
Share interview sound-bites for quick collaboration and higher quality hiring.
INTERVIEW INTELLIGENCE
Honeit turns conversations into insights.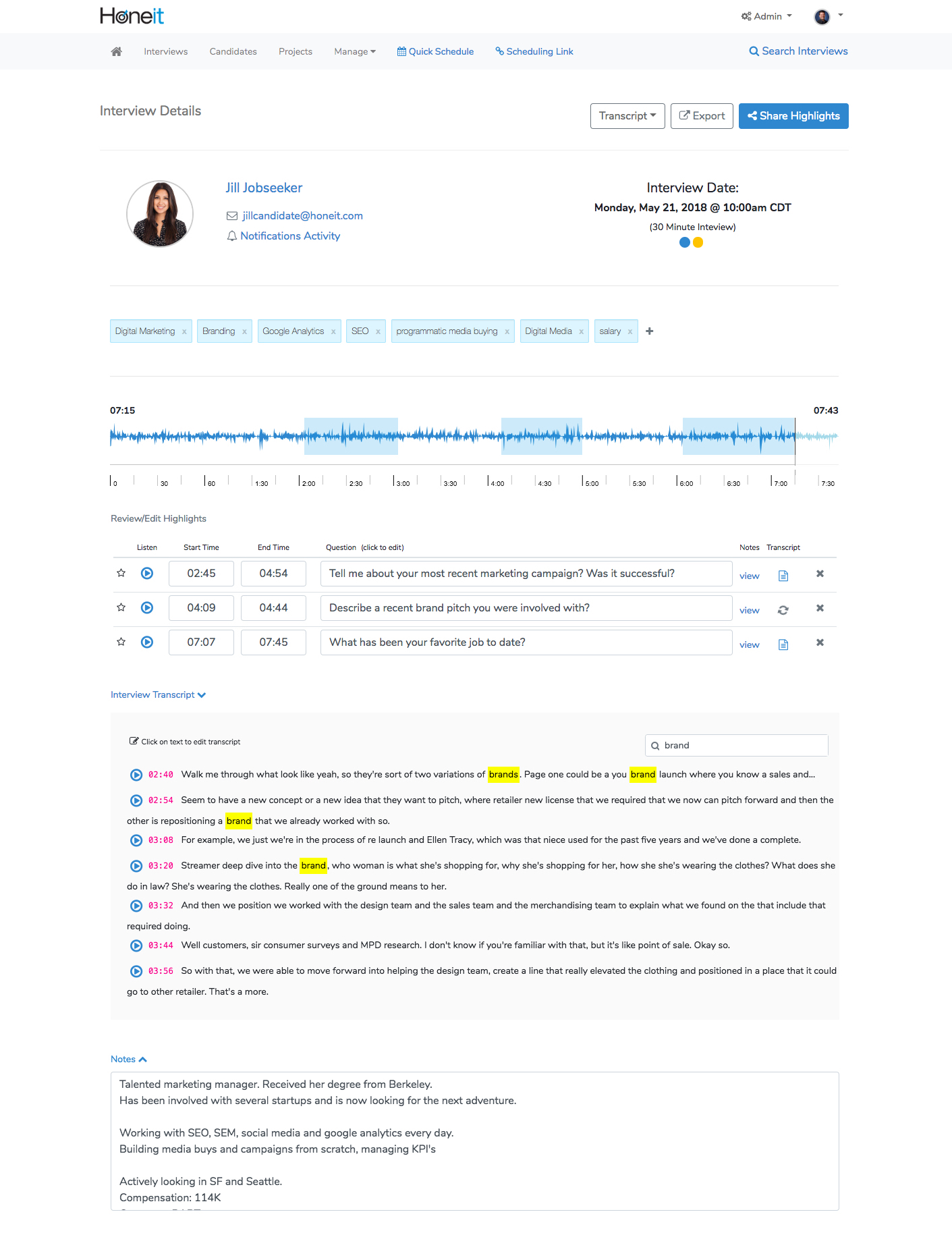 HONEIT FEATURES
Designed by recruiters to schedule, screen and submit talent faster.
Auto Schedule
Sync your calendar, set your availability and share your link.
Call Recording
Never forget a conversation or key interview moments.
Call Transcription
Transcribe the entire interview, questions and answers.
Call Sound-Bites
Automatically create shareable clips and highlights. 
Global Communication
Avoid long-distance and international charges with VoIP.
Cold Call
Easily make outbound calls without scheduling in advance.
Call Guides
Utilize structured interview guides for any skill-set.
Video Calls
Talk to candidates anywhere in the world with two-way video.
Search Everything
Search questions, answers, notes, tags and call transcripts.
Download or Export
Easily export interview data into your ATS or CRM.
Tracking & Analytics
Track email opens, clicks and interview analytics.
CRM
Manage contacts, clients, projects and real conversations.
Team Projects
Cooperatively schedule, screen and assess interviews.
SMS Text Messaging
Automatically send SMS text message reminders.
Team Calendars
Round-robin interview scheduilng and more.
Integrations
Partner integrations with Google, Outlook, Slack & More.
HOW HONEIT WORKS
See the Honeit interview experience.