Once you receive a welcome email from Honeit, click the 'login' link and choose a password.
Please be sure to add notifications@honeit.com to your safe-sender list and address book, to ensure you receive interview requests and system emails.
The first step is to connect your primary Google or Outlook calendar with Honeit. This will ensure you never overbook other meetings and will automatically add Honeit interviews to your Google or Outlook calendar.
Follow the 'Getting Started' tips when you login to create an interview guide and schedule a practice call with a friend or colleague. The Honeit interview dashboard tutorial shows you how to connect to an interview.
Please visit Honeit.com/support to view product announcements, video tutorials and frequently asked questions. Don't hesitate to contact us via support@honeit.com or a chat message from the support page.
Here's a quick video: https://www.youtube.com/watch?v=0g4sqaD40wE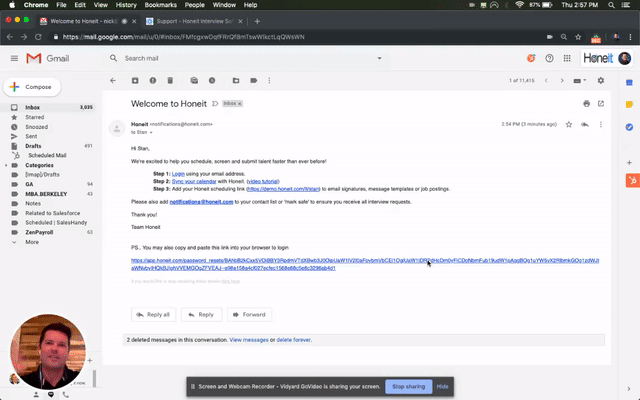 Schedule, screen and submit talent faster with Honeit interview technology!
Start interviewing today at Honeit.com/getstarted