Update 11/16/2016… Since writing this post, we had the opportunity to work with a third UX student design team in the GA San Francisco office! Jonida Shkurti, Emily Kwong and Jett Wang helped us remove steps and refine the user experience even further for the recruiting and human resources professionals using our live interview platform to supercharge their phone screens and make data-driven hiring decisions. Once again, James and I were extremely impressed at the student's professionalism, their thoughtfulness from a user research perspective, as well as their design deliverables. This third team had an even shorter amount of time for the project, but were still able to provide valuable insight and actionable design recommendations.
—–
The Honeit team has been fortunate to work with General Assembly San Francisco user experience design students on two unique projects. In both cases, we were blown away by the hard work, thoughtfulness and final result, over the course of each project. During the 4-5 week engagements, teams of three to four GA UX design students helped us dig deep through user research, live customer interviews, mock-ups, wire-frames and even working prototypes, to refine the user experience of our Live Interview Platform.
The First team included Danielle Dynes, Tiffany Lin, Ross Martinet and Maggie Nor. Each student quit their day jobs, to pursue the 12 week intensive program and make a career transition to User Interface, User Experience or Product Design professions. We were fortunate to have two members, Maggie (portfolio) & Tiffany (portfolio) with previous hands-on design chops, but the overall team's multi-disciplinary experience prior to GA helped them navigate every design challenge from unique perspectives. They helped us refine our Real-time Interview Dashboard, the user interface that our customers (Corporate Recruiters, Staffing Agencies & Hiring Managers) interact with while conducting live candidate phone screens.
Here's a link to the first project summary on Angel.co.

The second project, also spanning 4-5 weeks, focused on making it simple for Recruiters to schedule, phone screen and submit candidates to hiring managers in a new dimension. Much of the pain and frustration in the interview process has to do having rich conversations, but then sharing scribbled interview notes, full of misinterpretation & bias from one employee to another. The goal of the Honeit Interview System is to easily capture and share audio excerpts of a candidate's answers during live phone screens, to remove the need for redundant phone interviews and get candidates to on-site interviews sooner.
Kelsi Harris, Sara McCaffree and Rachel Sweet participated in our second General Assembly project. They also quit their day jobs, to make the transition to a User Experience career. Kelsi had previous design experience (portfolio), and Sara and Rachel's experience included information architecture, data analysis, customer success and operations. Every student we've worked with has experienced the pain and frustration of today's hiring process first hand as job seekers. Some were even involved with hyper growth hiring and working closely with hiring managers, which made for a solid foundation as the group began to deconstruct (diverge) and then re-imagine (converge) a better interview experience though design thinking.
See the second team's project portfolio on Angel.co.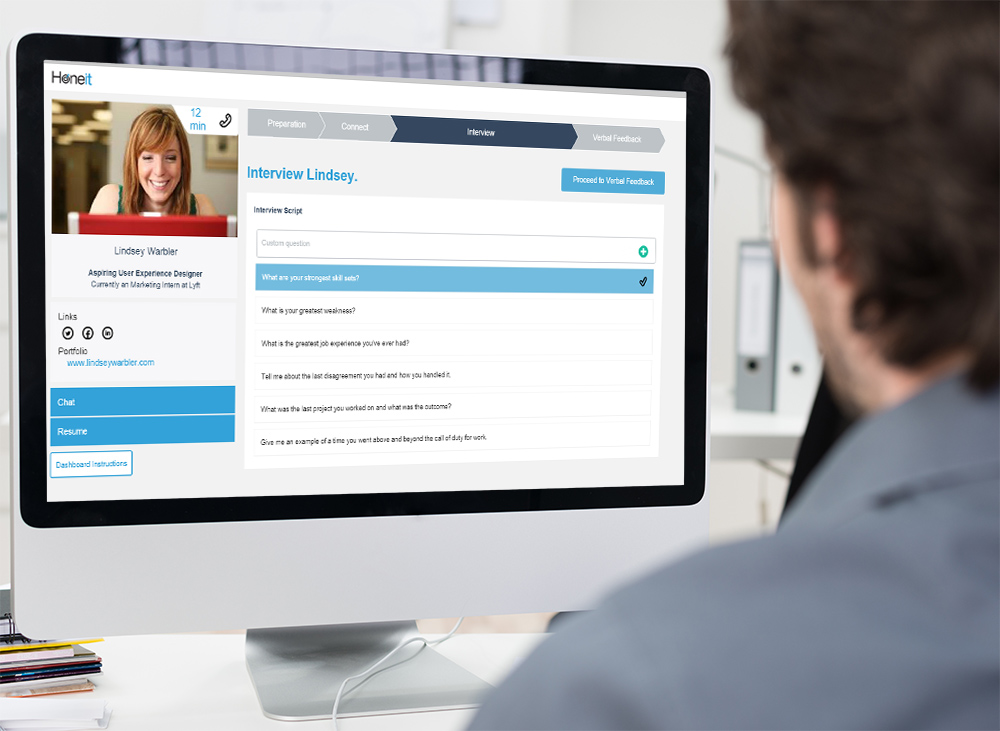 We were so impressed with the teams, not only with their great work, but for making the commitment to control their destiny. We even hired Tiffany Lin as a consultant, who continued to help us with user experience improvements, pixel perfect mock-ups, graphic design and marketing collateral. Her ability to ask the right questions, understand the problem we were trying to solve and then crank out awesome design work was impressive to say the least.
Thank you General Assembly, for helping us improve the Honeit Interview platform and today's interview process. You're doing a great service to close the skills gap in America and help working professionals not only change their career trajectory, but land their dream jobs.
Sincerely,
Nick Livingston
Co-Founder & CEO